75% Sleeve in Brown, Standard size (SAMPLE)
Sample / Second Item
25% OFF
This sleeve has minor imperfections. The difference between these sleeves and our regular items are slight: it could be a small marking on the leather, the thread colour is a little off or it's a bit wrinkled, etc.
Ships out in 3 business days.
Photo is for reference only and not of the actual product.
Personalization is not included but is still available below.
FINAL SALE. No refunds or exchange accepted.
To ensure the proper fit of your keyboard, click here for a list of popular keyboards that fit or contact us if your keyboard isn't listed.
Custom Color Option Unavailable
Sample items are available in stock colors and sizing only.
Click here to see our Made to Order sleeves which are available in custom colors.
Out of stock
Description
This case is made out of lightly-waxed canvas that is durable and water-resistant.
Dimensions
Standard sleeve:
13.5 in. x 7 in. x 1.75 in. (L x W x D)
34 cm x 18 cm x 4.5 cm (L x W x D)
These measurements are of the sleeve while closed and laying flat. The overall depth and width will change once a keyboard is inserted.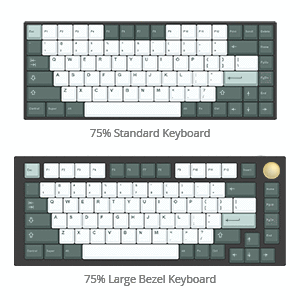 These measurements are of the case while closed, empty of contents and laying flat. The overall depth and width will change once a keyboard is inserted.
Popular Keyboards That Fit
Standard sleeve fits:
Keychron K2
KBDFans KBD75
CannonKeys Satisfaction 75
IDOBAO ID80
Vortex Race 3
Vortex Tab 75
Duck Octagon v3
SINGAKBD The Singa
KPRepublic GK84 / XD84
DREVO Excalibur
DREVO GRAMR 84
NIZ Plum 82/84
EPOMAKER EP84
YUNZII KC84
Ajazz AK33
Keycool Hero 84
Noppoo Choc Mini 84
E-Element Z-88
Akko 3084
Not sure whether your keyboard will fit? Contact us with the model name and details first.
Features
Lightly-padded top layer
Antique brass heavy duty magnetic snap
English bridle leather pull tab
Integrated outer pocket for USB cord storage
Color-matched carry handle
Sewn with heavy duty nylon thread
Stress points are double and triple stitched
The outer pocket can accommodate standard and custom sleeved and/or coiled USB cables of moderate length.
Materials
Lightly Waxed Canvas
The premium canvas* we use is coated with a light layer of proprietary wax, making the outer shell highly water-resistant. Unlike fully-waxed canvas, it won't have a wrinkled or cracked appearance over time and with continued use.
The canvas feels dry to the touch (fully-waxed canvas typically feels waxy or damp) and it will not transfer onto other materials like your keyboard case, clothing or other items it comes into contact with.
* This is a special textile produced by a family-run business in the USA since the 1930s. They are one of the last companies still producing this kind of high quality material.
Cotton Twill Lining
A tan coloured, 100% cotton twill lining makes for a soft and sturdy interior with no loose fibres. No more worrying about snagging your keycaps or static electricity buildup.
Leather Pull Tab
Made out of a beautiful, vegetable tanned English bridle leather the pull tab makes it easy to secure your keyboard with minimum effort.
Additional information
| | |
| --- | --- |
| Weight | 0.25 g |
| Dimensions | 13.5 × 7 × 1.75 in |
Only logged in customers who have purchased this product may leave a review.