60% Mechanical Keyboard Sleeve
Made to Order
Please allow up to 1 week (up to 2 weeks if custom/personalized) for production before shipping.
To ensure the proper fit of your keyboard, click here for a list of popular keyboards that fit or contact us if your keyboard isn't listed.
$59.00
Description
This sleeve / case is made out of lightly-waxed canvas that is durable and water resistant.
Dimensions
Standard sleeve:
12.5 in. x 6.25 in. x 1.75 in. (L x W x D)
32 cm x 16 cm x 4.5 cm (L x W x D)
Large Bezel sleeve:
14.17 in. x 6.25 in. x 1.75 in. (L x W x D)
36 cm x 16 cm x 4.5 cm (L x W x D)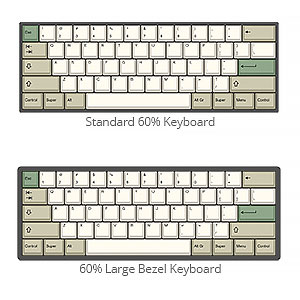 These measurements are of the sleeve while closed and laying flat. The overall depth and width will change once a keyboard is inserted.
To ensure the proper fit of your keyboard, check the list of compatible keyboards in the description or click here to contact us prior to making a purchase.
Popular Keyboards That Fit
Standard sleeve fits:
Vortex POK3R / Poker II
ANNE PRO
GK64
KBDFans TINA / TOFU 60% / TOFU HHKB
KC60
KBParadise V60
Sentraq S60-X
XD60/XD64
Saber 60
XD75RE
HHKB Pro / Pro 2 / Pro 2 Type-S / Pro 2 BT
HHKB Classic / HYBRID / HYBRID Type-S
Glorious GMMK Compact
Leaf 60
Tokyo60
Large Bezel sleeve fits:
KBDFans 5 Degree / D65
Ducky One 2 Mini / Mecha Mini
Vortex POK3R LE / TAB 60
Mistel Barocco MD600
Filco Majestouch Minila
Luna
Brutal 60
Klippe / Fjell
Other 60% keyboards not listed will likely fit but if you're not sure, please contact us before making a purchase.
Features
Lightly-padded top layer
Antique brass heavy duty magnetic snap
English bridle leather pull tab
Integrated outer pocket for USB cord storage
Color-matched carry handle
Sewn with heavy duty nylon thread
Stress points are double and triple stitched
The outer pocket can accommodate standard and custom sleeved and/or coiled USB cables of moderate length.
Materials
Lightly Waxed Canvas
The premium canvas* we use is coated with a light layer of proprietary wax, making the outer shell highly water-resistant. Unlike fully-waxed canvas, it won't have a wrinkled or cracked appearance over time and with continued use.
The canvas feels dry to the touch (fully-waxed canvas typically feels waxy or damp) and it will not transfer onto other materials like your keyboard case, clothing or other items it comes into contact with.
* This is a special textile produced by a family-run business in the USA since the 1930s. They are one of the last companies still producing this kind of high quality material.
Cotton Twill Lining
A tan coloured, 100% cotton twill lining makes for a soft and sturdy interior with no loose fibres. No more worrying about snagging your keycaps or static electricity buildup.
Leather Pull Tab
Made out of a beautiful, vegetable tanned English bridle leather the pull tab makes it easy to secure your keyboard with minimum effort.
Additional information
| | |
| --- | --- |
| Weight | 0.25 g |
| Dimensions | 12.5 × 6.25 × 1.75 in |
Only logged in customers who have purchased this product may leave a review.